Home Development Setup 2020 - Pandemic Edition
My home office development setup, why how and where to get it
---
Ah, 2020, what a year! Raging Covid-19 pandemic, killer wasps, Bolsonaro, a family of wild boars stealing notebooks from naked middle-aged men, bubonic plague, whatever your wildest nightmares can request, 2020 can deliver.
Amid such challenging times, we have been, most of us forcedly, working from home for the past five months or so, so a good home-office setup is more relevant than ever!
It comes as no surprise to anyone that your workstation and equipment can impact drastically, not just your productivity but your overall well being. Our work environment is sometimes where we spent the bulk of our days, so every detail counts.
Luckily for us at home, me and my wife, we have been improving and experimenting with the home office way before the lockdown started, so when the pandemic struck, we were all set.
We designed the space for the two of us, but I will focus in this post on my workstation, which is focused mainly on development.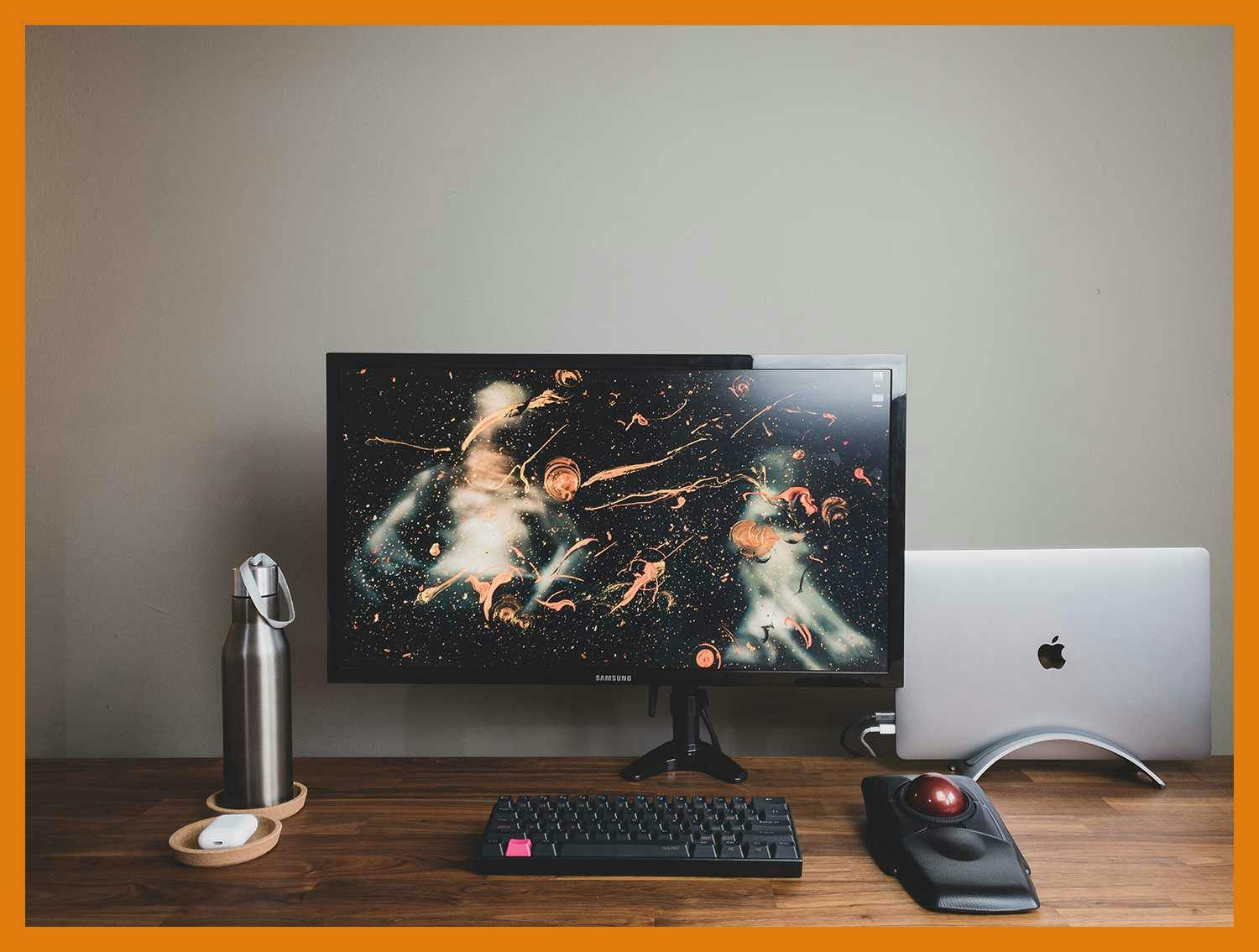 The Desk
Everything starts with the desk. It's the foundation of the workspace.
First, I was looking for two distinct desks, ended up leaning towards a big tabletop one able to support two workspaces. It felt cleaner and more uniform.
I chose a kitchen tabletop from Ikea called KARLBY. It was almost the exact size of the wall the station is on, not as wide as I hoped for, but it was relatively cheap, and it is gorgeous.
As feet, I repurposed the ones from an old table that now lives on the basement storage, added an ALEX drawer (also from Ikea) in the middle, and voilá: We had a desk.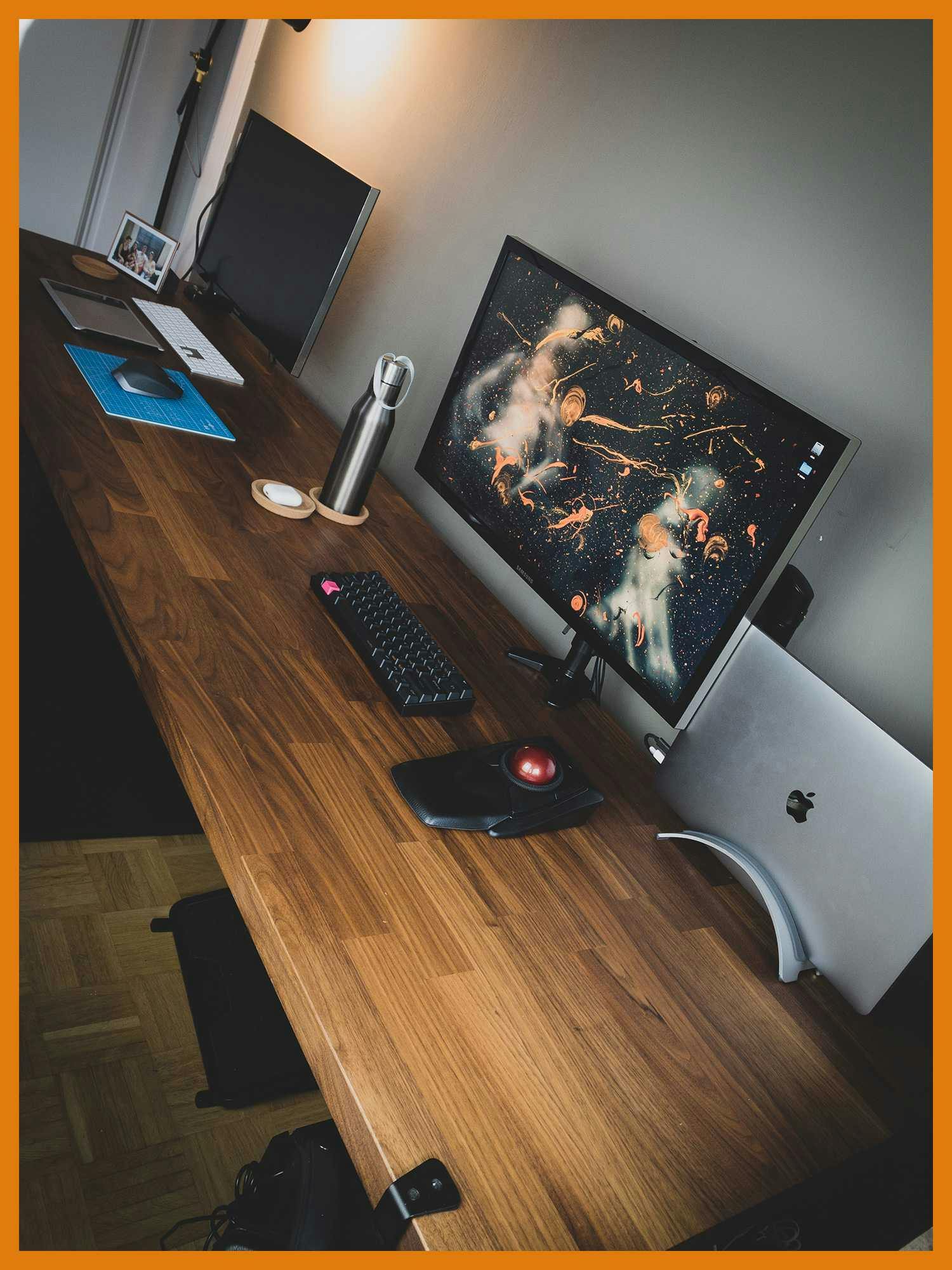 Computers
Currently, I have two computers in use. There is also an ancient Macbook Pro 13" from 2012, which I am planning to repurpose as a Linux machine for development. But that's a topic for another post.
The main machine is a Macbook Pro 15" 2019 A.K.A the work-machine, it is not mine actually, the company provided for me. It sits most of the time on a BookArc alluminum support from Twelve south.
My personal computer at the moment is an AMD desktop (Windows/Manjaro dual boot) that I've built end of last year, A.K.A Doom Eternal machine because that's all I have been doing on that computer since March.
Monitors
By far, the most tried and tested aspect of my setup. I tried a lot of combinations, dispositions, and models.
Dual monitor, triple monitor, dual monitor + iPad, dual monitor + laptop + iPad, ultrawide monitor, you name it. Curious about all the variations? Check out my Instagram at @the.minimalist.developer.
Now I am back to the basics, 90% of the time using only a single 4k 28" Samsung U28E590 hooked to a monitor arm I've found on Amazon.
Depending on the tasks at hand, I might feel more comfortable with two screens, when this happens I open up the laptop and I am good to go.
When working on the desktop, I rarely, if ever, feel the need for an extra monitor because of the I3 desktop manager. It allows me to organize the workspace much better, with a 28" display, there is not much need for more space.
Keyboard
Yep, I am the despiteful coworker that uses those typewriter-like sounding keyboards. What can I do? It feels so good!
We type all day long, better be typing on something enjoyable, right? On top of the feeling, there is also an ergonomic benefit.
Currently, I am using an Anne Pro 2 (Gateron blues switches) with the notebook and a Pok3r (MX Clear switches) on the desktop.
Usually, only one would be at home, and the other would be at the office, but since all this pandemic, I brought all my stuff from the office back home.
But to be honest, none of those are the endgame for me. I will be building a new one soon.
Mouse
Neglected and often forgotten, the mouse is only a central piece when I am playing, that's when I use a Logitech G305.
While at work, my entire workflow revolves around the keyboard. My development environment resumes practically in just a terminal. On my browser, I use extensions to facilitate the control with the keyboard.
The amount of interactions left to the mouse is small, that's why I never paid much attention to it. But after a lot of time using Apple's Magic Mouse, I decided to invest in a device focused on ergonomics, my wrist was killing me, even with relatively low usage.
I learned about trackballs, and after reading a lot of praising reviews decided to give it a shot. Loved it!
Ended up choosing a Kensington Expert Mouse, and never looked back.
Headphones
What kind of developer setup does not have headphones? Especially now, that all the meetings happen remotely, headphones are an extreme necessity.
Most of the time, I use Apple's Airpods, which works great, except when you have a lot of stuff connected over Bluetooth. If that's the case, you can face a lot of connectivity issues, like I have been facing ☹.
While playing or listening to music, I use the Beyerdynamic DT 150, the famous German tank, super well built, the rustic, weird, retro design is a con for some, I dig it. I hook these up to a Fiio K3, a headphone amplifier, and Digitial Audio Converter.
Chair
For budget reasons, I chose the JÄRVFJÄLLET from IKEA. It is a good looking chair, but I don't find it very comfortable, the neck/head support feels weirdly positioned, the arms have no adjustments whatsoever, among other things.
I mean, what could I expect from a 200 euros chair? High end, good quality office chairs can easily pass the 1000 euro mark. It is an investment that will last for a long, long time, one that I plan to make shortly.
Conclusion
At least for me, it seems that my workspace will always be a work in progress. While writing this post, I noticed how many things I want to improve, swap, or change, and it is a lot!
Even with all the details that can be improved, this is still the best setup I have ever had, and proved time and time again to have been a wise investment. It makes my time at the computer that much more enjoyable and comfortable, which is essential during these prolonged indoor times we have been going through.
Minimalist && life long learner